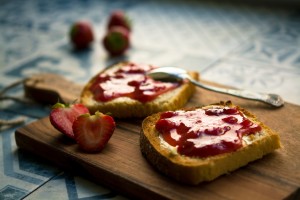 If you want to make better tasting jam faster and easier than ever before, consider making jam in a traditional copper jam pot, as it has been prepared by French chefs for centuries.
These copper pans are designed specifically for making these sweet preserves and therefore provide many benefits over other types of preserve pans.
View the #1 rated copper jam pot >>>
---
Benefits of Copper Jam Pans
1) SHORTER COOKING TIMES
Copper conducts heat exceptionally well, which allows for a shorter cooking time and even-heating throughout the entire process which helps to keep the fruit flavor vibrant and un-diluted. When you lift the pot off the stovetop it stops boiling almost instantly preventing the preserves from being over-cooked. Another benefit of a shorter cook time, is that the appearance of the preserves is much brighter and more colorful.
---
2) BETTER TEXTURE OF JAM
The shallowness of the jam pot along with the tilted sides helps moisture evaporate so that it doesn't run back into the jam, creating a better 'gel' texture for the preserves. The copper material also allows for a smoother stirring of the preserves without the pan feeling sticky or getting scorched on the bottom.
---
3) ANTIMICROBIAL PROPERTIES

Copper is naturally an antimicrobial material, which means that it has the ability to kill or deactivate even the most toxic species of bacteria, mold and viruses, which has been proven in multiple scientific studies.
---
Copper Jam Pan Reviews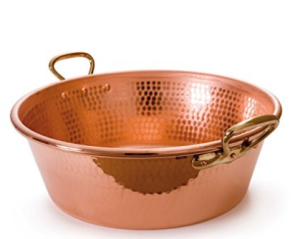 This Mauviel Copper Jam Pan is an unlined copper pot specifically designed to cook large batches of preserves (also view the 11 quart option). Not only is the hammered copper beautiful, but it's functional as well, helping to hide the scratches and dents that copper can be prone to after years of use. Mauviel is a French cookware company founded in 1830 that has manufactured its products in aVilledieu-les-Poêles, nicknamed "the city of copper".
PRICE RANGE
$300 or Less

Note: The price is directly related to the amount of copper in the pan.
TOP QUALITIES
Made of Beautiful Hammered Copper

High Quality Bronze Handles with Copper Rivets

Limited Lifetime Mauviel Warranty
CONS
Hand Washing Recommended
Brass Handles Heat Up
FACTS
16 x 16 x 8 in

14.8 Quarts

Made of Copper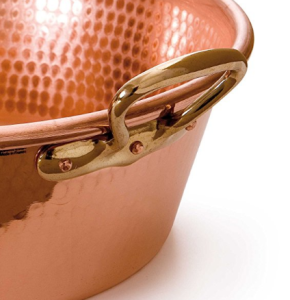 >>> VIEW THIS "KNOCKOFF" A29 VERSION FOR ~$100 LESS
---
The Bourgeat copper jam pan is smaller than the Mauviel option, holding 10 Quarts rather than 15 Quarts and has a thinner construction. Due to the smaller size and thinner walls of the pan, it has a lower price point. This pan is a great option for making jam, especially if you're looking for a cheaper, more affordable copper jam pan.
PRICE RANGE
TOP QUALITIES
Made of Unlined Copper

Bronze Handles
Affordable Pricepoint
CONS
Thin Construction/Easily Dents
Hand Washing Recommended
Brass Handles Heat Up
FACTS
15 x 1 x 5 in

10 Quarts

Made of Copper
---
Is Copper Safe for Humans?
Yes – as long as you use copper cookware correctly, it is perfectly safe. Do NOT cook fruit-only in the copper kettle. As long as you cook the fruit WITH sugar, the copper will not react with the acidity of the fruit and everyone stays safe and healthy while getting to eat the best tasting jam possible.