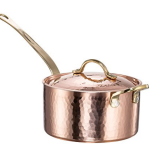 A copper sugar pot can take your candy and jam making to the next level.
Suddenly those recipes you may have struggled to follow will fall into place with ease.
A copper sugar pan makes such a noticeable difference in the candy and jam making process, because copper has many unique properties that other materials can't compete with. There's a reason that French chefs have been using them for centuries!
---
The Benefits of Making Candy & Preserves with Copper
1) SUPERIOR HEAT CONDUCTIVITY
Copper responds quickly to changes in temperature allowing you to effectively manage the temperature throughout the cooking process.
2) PREVENTS SUGAR CRYSTALLIZATION
Copper conducts heat evenly, which is essential when boiling down sugar. Any hot spots on a pan will cause the sugar to crystallize and ruin your batch. This is especially notable for gas stoves where heating is very uneven.
3) ANTIMICROBIAL PROPERTIES
Copper is a antimicrobial material that provides a "contact kill," deactivating even the most toxic species of bacteria, mold and viruses upon contact.
---
Sugar Pot Reviews
The Mauviel sugar pot is highly rated on Amazon with 5 out of 5 stars and an excellent sugar pan for creating candy and preserves.
At nearly 4 quarts, this is the largest copper sugar pan best for those that plan to make large batches of candy or jam.
As copper is very heavy, the handle is also copper in order to support the weight of the pan which ensures that this product will last a lifetime. The handle will get hot to the touch, so make sure to have some oven mitts handy!
PRICE RANGE
Click to see the current price >>>
PRODUCT DETAILS
100% Copper
3.7 Quarts
1.9 Pounds
Manufactured in France
Click to see product details >>>
ADDITIONAL SIZES AVAILABLE
Mauviel 2.5 Quart Sugar Pot
Mauviel 1.9 Quart Sugar Pot
Mauviel 1.2 Quart Sugar Pot
Mauviel 0.9 Quart Sugar Pot
A smaller pan means less copper, and therefore a lower price

View pricing for the SMALLER pans >>>
---
Demmex Hammered Copper Sugar Pot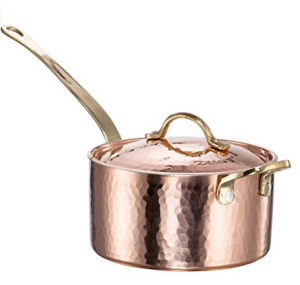 The Demmex 2.1 Quart sugar pot is pricier than the Mauviel 3.7 Quart, even though it's a much smaller size. So… is it worth the extra dough? If you value handmade craftsmanship then this is a contender, as it's made almost completely by hand (however they do use hammer cold-forging).  All else being the same, the Mauviel sugar pot is a much better deal.
PRICE RANGE
Click to see the current price >>>
PRODUCT DETAILS
100% Copper
2.1 Quarts
2.4 Pounds
Hammered Copper Exterior
Manufactured in Turkey
Click to see product details >>>
---
Candy Making Kitchen Checklist
If you're just getting into candy making, make sure that you have these necessary products before you begin cooking up your next sweet treat! The copper pan is a considerable investment, but luckily the rest of the candy making equipment is very affordable.
1) CANDY THERMOMETER
Use this to monitor the temperature in the copper pot. 
---
2) OVEN THERMOMETER
Ahem… when's the last time you calibrated your oven? It may say 350 degrees but that doesn't mean it's accurate.
---
3) MARBLE SLAB
Pour your candy mixture onto a marble slab to let it cool.
---
4) SILICONE BAKING MAT
It can withstand high heat, has a non-stick surface and it's reusable so that you're not constantly running out of parchment paper.
---
5) PASTRY BRUSH
The pastry brush is needed to brush away the sugar that splashes onto the side of the pot. If these splashes burn and crystallize it can ruin an entire batch of candy.
---