When you're trying to make a small space feel larger, or add coziness to large open rooms, wooden carved room dividers are a unique and stylish way to define spaces.
White Antique Room Dividers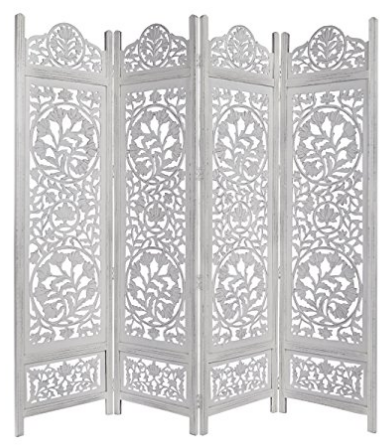 4 Panel Intricately Carved Wooden Divider >>>
This wooden divider has 4 panels and is .75 inches thick. It's made from mango wood and is great for wall art, a headboard, or creating a private area. The divider is very heavy and sturdy, it stands on its own. View the price.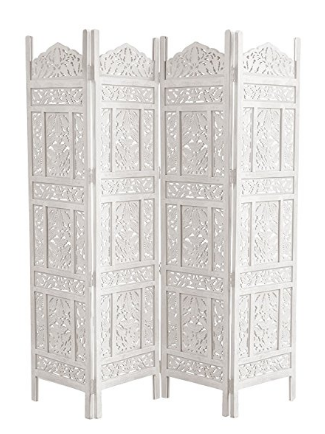 Antique Looking Wooden Folding Screen >>>
This antique style room divider has 4 panels of intricate floral hand carvings, made of mango wood. View the price.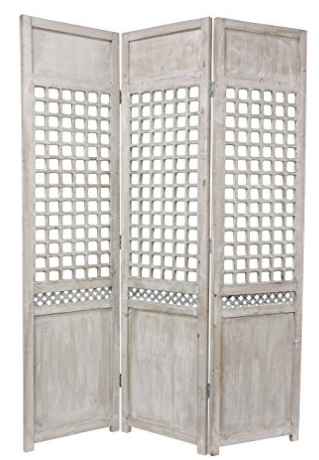 Beachy Distressed Wood Room Divider >>>
This distressed white wooden room divider has 3 folding panels and a criss-cross wooden lattice, that allows light through the divider.  It looks like a natural driftwood, providing a beachy feel.  View the price.
Moroccan Inspired Room Divider >>>
Antique Brown Room Divider >>>
Asian Inspired Room Partition >>>
Dark Wooden Panel >>>
---
How to Use Room Dividers
1)    Dividers for Studio Apartments
If you're living in a studio, use a wall divider to separate the "bedroom" from the living area. The dramatic effects this small change can add to your daily life is astounding.
2)    Dividers for Dorm Rooms
If you're in a dorm room, create additional privacy or a "sitting area" in your room and be the envy of everyone in the dorm, with a beautiful wooden divider. You can even paint them fun colors to add more personality to the dorm.
3)    Dividers for Large Open Spaces
Alternatively, if you're lucky enough to have a huge room that you want to make feel more cozy, wall dividers make a great partition. You can carve out an office area or a reading nook to make the most of your open space. Wall dividers are one of the most affordable ways to create smaller more functional spaces within a larger room. Plus, they are renter friendly!
Factors to Consider:
Size – Most wooden room dividers come in a double-fold or tri-fold silhouette, but there are dividers with as many as eight panels.                                                                                                                             
Wood – Consider what type of wood the room divider is made of to determine quality.
Balance – The divider needs to be sturdy enough to avoid tipping over. Some cheaper dividers may fall down a bit, so be careful to determine the weight and shape of the divider.
Weight – Do you plan on moving your folding screen around frequently? Or keeping it in place? If you desire a more portable screen that can be moved with ease, consider a lighter divider that is easier to carry. If the divider will remain in the same spot long-term, you may want a heavier screen for greater durability.
History of Folding Screens
Dividers were invented in ancient China during the Han Dynasty. Initially, they were one panel screens made of wood, decorated with intricate artwork with themes of mythology, nature and palace life. During the Tang Dynasty the popularity of folding screens grew, with artists using the screens to showcase their calligraphy and paintings, while aristocrats displayed them as ornaments.
The popularity of folding screens spread from China to Japan, Korea and eventually to Europe in the late Middle Ages. The French especially, held admiration for the Chinese folding screens. While they were originally made of wood, folding screens were also made of silk, leather, mirrors, tapestry and paper.
Fun Fact: Coco Chanel collected Chinese folding screens. She was rumored to have 32!
Original Uses of Folding Screens
Prevent drafts of wind in a room.

Privacy screens for changing.

Decorative ornaments.