It can be difficult to find a tea kettle manufactured in the USA in today's world, unless you go vintage, but we were able to find a few gems!

Note that searching "made in USA" on major retailer websites does NOT provide accurate results.

To be 100% sure that a product is made in the United States, you must visit the product website for the most accurate information or view the packaging.
Search Example: Tea Kettles Made in the USA >>
If you click the "search example" above, it quickly becomes clear that the majority of the tea kettles listed were not made in the US. In this day and age if you want a product 100% made in the USA from start to finish, it often requires top dollar.
---
Review of Important Tea Kettle Features
1) ELECTRIC vs NON-ELECTRIC
Electric kettles not only have the capacity to heat up water much faster, but they can heat to specific temperature points. On the other hand classic stove-top kettles are traditional, beautiful and functional.
---
2) MATERIALS
Glass, Ceramic, Stainless Steel, Copper – all of these materials will get the job done. The upkeep and durability vary by material. For example, stainless steel requires very little maintenance while a copper kettle needs polishing and proper care to stay shiny and clean.
---
3) SIZE / CAPACITY
If you enjoy entertaining, then having a larger kettle that can hold around 12 cups is ideal. If you just need enough for 1-2 cups of tea then a smaller kettle would save space on the stovetop and in the cupboard.
---
4) MANUFACTURING LOCATION
Purchasing a tea kettle made in the USA will support local businesses and can be purchased with the comfort of knowing that top-notch quality controls are enforced throughout the manufacturing process.
---
 The Medelco Whistling Tea Kettle is highly rated on Amazon with 4 out of 5 stars and a very affordable price point of less than $15.
Click to see the current price >>>
REVIEW OF TOP QUALITIES
Dishwasher Safe
Works with Gas or Electric Stoves
Heat-Resistant Handle & Removable Lid
Made from Lab Quality Boroscilicate Glass
FACTS
Holds 12 Cups of Water
7.5 inches x 9 inches x 6 inches
Thermal Shock Resistant
BPA Free
NOTES
Assembled in Bridgeport, Connecticut
May be Composed of Some Foreign Parts
Are One All products made 100% in the USA?
"Some of our One All products are composed of foreign and domestic parts.  Some of our One All products are composed entirely of parts made in the USA.  Most of the One All products are fully assembled here in our factory in Bridgeport, Connecticut, USA!"
---
Jacob Bromwell® kettles are manufactured by skilled artisans, the old-fashioned way in the USA. Every single step of the process is done by hand!
This tea kettle is one of the ONLY ones we could find that were 100% manufactured and assembled in the USA without going vintage.
The manufacturing process was developed by Jacob nearly 200 years ago when he began hot-tinning each kettle.
Today each kettle takes hard work and skilled labor from five separate individuals. With a hand-made process, the kettles are not always geometrically perfect and have minor cosmetic imperfections as a natural part of the creation process.
Click to see the current price >>>
REVIEW OF TOP QUALITIES
Hand-Crafted Copper Kettle Made by 5 people
Made of Pure Solid Copper (Copper Doesn't Rust!)
Hot-Tinned Interior
Works with Open Fires and Stove Tops (Gas/Wood/Electric)
Product is Guaranteed for Life by Jacob Bromwell®
FACTS
Holds 6 Cups (36 Ounces)
7.5 x 7 x 4.25 (inches)
NOTES
With a Copper Handle Wear Oven Mits
Hand Wash Only
Do Not Boil Dry
Over time, if left untreated the copper finish will naturally oxidize to a beautiful patina (but not if you give it a good ol polish).
---
Tea Kettles NOT Made in China
Many people looking for products made in america, not only want to support local businesses but also to buy a product that is built following the highest manufacturing standards around. Since there are such a limited number of tea kettles fully manufactured in the US, it is worth mentioning other options that are NOT made in china. Sometimes, all you really want is something that is manufactured with high quality, tightly controlled standards and in China manufacturing standards can be lax. 
---
Tea Kettles Made in the UK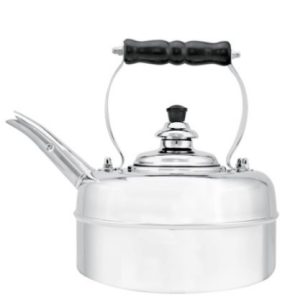 This kettle is spun by hand from copper and plated with a beautiful chrome finish, so that you never have to worry about polishing the copper. It will simply sparkle on your stovetop.
When the water reaches a boil, it will whistle a song. This kettle is not only magnificent but will be a great kitchen accessory for any gas or electric stove.
REVIEW OF TOP QUALITIES
Copper Plated with Chrome
Works with Gas or Electric Stoves
Heat-Resistant Handle & Removable Lid
Beautiful Whistling Noise
NOTES
The Knob on the Lid is Plastic
To Whistle the Lid Must be On
---
Tea Kettle Made in the Japan
REVIEW OF TOP QUALITIES
Stainless Steel
Award-Winning Design
Mirror Finish
Handle Moves Side to Side Easily (for easy filling)
NOTES
---
Whether you drink tea regularly or break out the tea kettle when hosting a party, there are beautifully designed and affordable tea kettles for all needs.