Red is a bold, powerful color.
It's no wonder that more red kitchen accessories are sold than any other color!
View the #1 bestselling red dinnerware set >>>
Which of the red dinnerware sets below is your favorite?
Solid Red Dinnerware Sets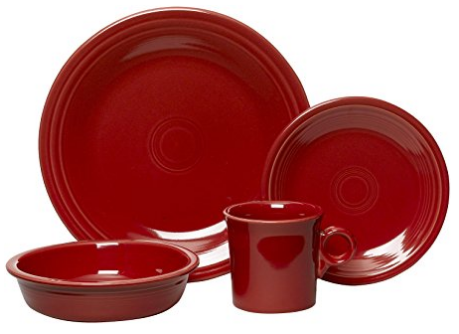 Fiesta dishes are a high quality product made in the USA, that comes in an endless variety of colors. The deep dark red of their scarlet dish set is a stunning color.  The dishes are made of a chip resistant china that is dishwasher, microwave and oven safe.
View the Fiesta Scarlett Dinnerware>>>
This ceramic dish set has a matte black finish on the outside and a glazed solid red finish on the tops of the plates and inside the bowls.  It's sold in sets of 4 and is dishwasher and microwave safe.
View the Red and Black Dishes by Gibson Vivendi >>>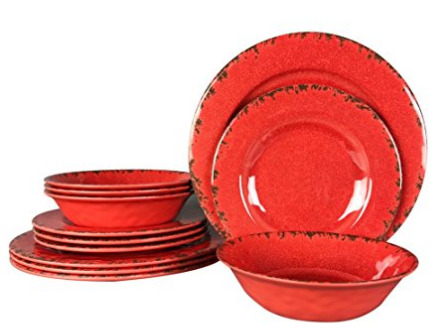 This 12 piece dinnerware set has a rustic design that will add charm to any kitchen. It is dishwasher safe but not microwave safe. This set is thick and sturdy, which is especially great for outdoor use.
View this  Rustic Melamine 12 Piece Dish Set >>>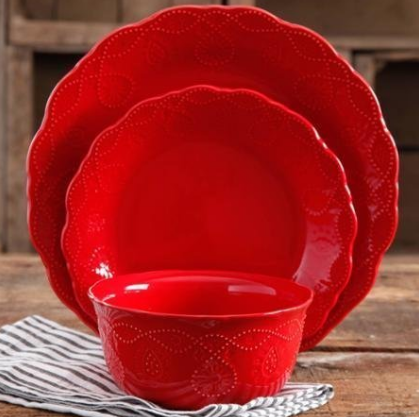 This stunning set of dishes has an equally adorable name, with the design being called "Cowgirl Lace".
View the Pioneer Woman Cowgirl Lace Dish Set >>>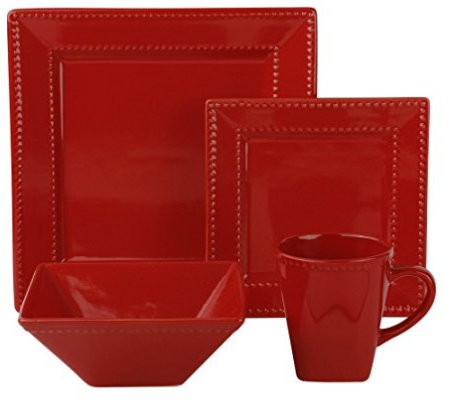 These red porcelain dishes are a unique mix between modern and rustic, with a combination of the square shape and the raised dots that outlines the plates.
---
More About Red
Red is a color with meaningful historical significance.  It is the color of fire, blood, energy, war, passion, power, love and determination.
Those that are drawn to the color red are said to be powerful, bold, decisive and courageous.