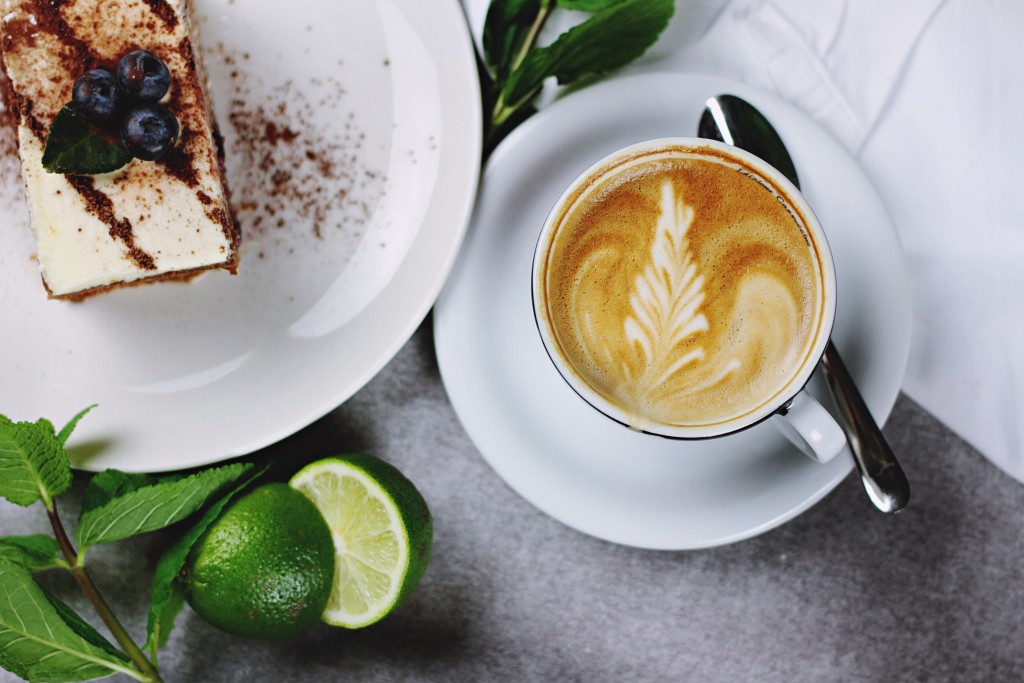 Does anyone still make coffee makers in the USA?  Yes!
Several brands manufacture and assemble american made coffee machines including BUNN, Chemex, Aerobie, and Jacob Bromwell.
| Brand | Photo | Type of Coffee Maker | Best For: | Price | Made In |
| --- | --- | --- | --- | --- | --- |
| Bunn BX | | Electric Coffee Maker | Coffee Fanatics, Families, Groups | $$ | Creston, Iowa |
| Bunn GR | | Electric Coffee Maker | Coffee Fanatics, Families, Groups | $$ | Creston, Iowa |
| Bunn BT | | Electric Coffee Maker | Coffee Fanatics, Families, Groups | $$ | Creston, Iowa |
| Aerobie Aeropress | | Pressure Brewing | Espresso Lovers, Camping, Travel, Portability | $ | Palo Alto, CA |
| Chemex | | Glass Coffee Maker | Personal Coffee Maker | $ | Chicopee, MA |
| Jacob Bromwell | | Copper Coffee Maker | Those That Value Handmade Goods | $$ | Indiana & Vermont |
---
The Top Rated American Made Coffee Machines
#1) BUNN  COFFEE MAKERS – BX, BR & GT MODELS
BEST FOR HEAVY COFFEE DRINKERS


There are only subtle differences between these 3 models, all of which are manufactured by BUNN.
The mechanics of brewing are the same, the only differences are in appearance and the carafe. The BUNN-BX has a silver rounded back while the BUNN-GR has a black square back, while the BUNN-GT has a stainless steel carafe to keep the coffee hot for longer. Read the full review on each model.
Despite their minor differences, BUNN makes an excellent quality coffee maker that can make up to 10 cups of coffee in just 3 minutes.
Click to see the current price >>>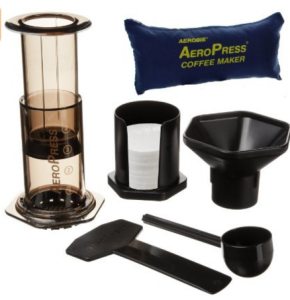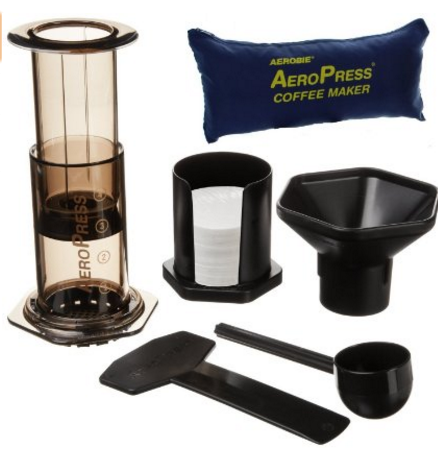 #2) AEROBIE AEROPRESS
BEST FOR ESPRESSO LOVERS, CAMPERS & TRAVELERS
The Aerobie AeroPress is a small, portable manual coffee maker.
It is a unique coffee maker that uses air pressure to brews a strong cup of coffee very similar to espresso quality.
This coffee maker is affordable, and best for those who like to make 1 cup of coffee at a time or that need a portable solution.  The Aerobie Aeropress is great for camping trips, road trips, and traveling in general for people that like to travel light – but can't last a day without an amazing cup of coffee.
Click to see the current price >>>
Makes Coffee

Makes Espresso

Micro Filtered Coffee: Pure & Particle-Free 

Comes With Travel Bag

BONUS! It Makes Cold Brew
Read customer reviews >>>
#3) CHEMEX COFFEE MAKER
BEST FOR SINGLE SERVE COFFEE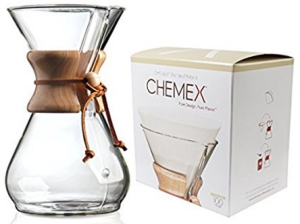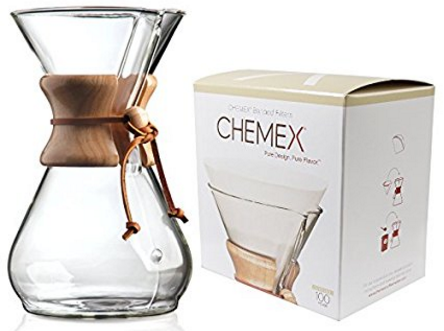 The Chemex coffee maker has a beautiful and modern design. Made of glass with a wooden "belt" around its middle, the chemex is a highly popular stovetop coffee maker.
Product Features:
Borosilicate Glass

Polished Wood Collar

Durable Paper Coffee Filters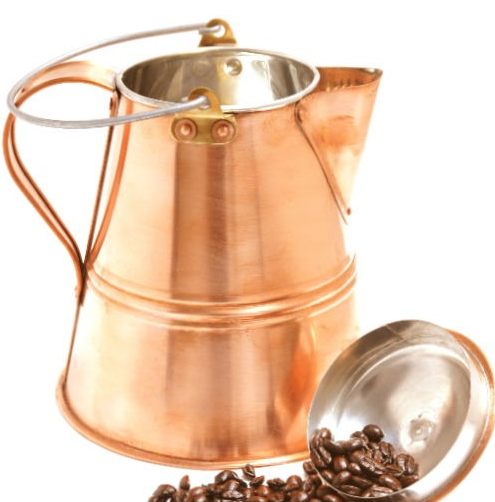 #3) JACOB BROMWELL COPPER COFFEE MAKER
BEST FOR HAND CRAFTED AFICIONADOS
Handcrafted by skilled artisans in the USA, the Lewis and Clark coffee maker is made from 100% copper. Copper has unique antimicrobial properties that kills virus and germs on contact.
---
A Word of Caution
It can be difficult to find American made coffee makers in today's market. We have rounded up and reviewed 6 coffee makers made in the USA!

Note that searching "made in USA" on major retailer websites does NOT provide accurate results.

To be 100% sure that a product is made in the United States, you must visit the product website for the most accurate information or view the packaging.
Search Example: Coffee Makers Made in the USA >>
If you click the "search example" above, it quickly becomes clear that the majority of the coffee machines listed were not made in the US.
---
What Qualifies a Product as "Made in USA" ?
The FTC states that, "For a product to be called Made in USA, or claimed to be of domestic origin without qualifications or limits on the claim, the product must be "all or virtually all" made in the U.S.
The term "United States," as referred to in the Enforcement Policy Statement, includes the 50 states, the District of Columbia, and the U.S. territories and possessions."
---
 Review of Important Coffee Maker Features
1) BREWING CAPACITY
Do you want a single serving coffee maker or a coffee pot that can make up to 12 cups?  Do you want a grind and brew machine or will you purchase pre-ground coffee beans?
---
2) MATERIALS
Is the coffee maker constructed of plastic or metal? Metal coffee machines will be more durable and last much longer, but for gentle usage a plastic coffee maker will work out fine.
---
3) MANUFACTURING LOCATION
Purchasing a coffee maker made in the USA will support local businesses and can be purchased with the comfort of knowing that top-notch quality controls are enforced throughout the manufacturing process.  Kudos for supporting American made goods!
---
Bunn Coffee Reviews By Model
The Bunn BX Velocity 10 Cup Brew is highly rated on Amazon with 4.5 out of 5 stars and at a price point of less than $150. Bunn offers 3 coffee makers that are assembled in the US, including the Bunn BX Velocity (pictured to the right), the Bunn GR Velocity, and the Bunn BT Velocity.
Click to see the current price >>>
REVIEW OF TOP QUALITIES
Fastest At-Home Coffee Brewer
Makes a Full Pot of Coffee in 3 Mins
Drip Free Glass Carafe
Porcelain Warming Plate
Proprietary Lid & Spout is Designed to Arc the Pour of the Coffee
A Large Flat Bottom Filter Provides Superior Flavor Extraction
Makes 10 Cups of Coffee
3 Year Warranty
NOTES
Complaints of a Burning Plastic Smell
11.6 x 13.7 x 9.1 inches
Click to see product photos >>>
ASSEMBLED IN USA
Where are Bunn Coffee Makers made?
Assembled in Creston, Iowa.
Who owns Bunn-O-Mattic Corporation?
Bunn-O-Mattic was founded by George Bunn, the inventor of the fluted coffee filter, in the 1950s. Today it's a fifth generation family business.
Click to see product photos >>>
---
Option #2
What is the difference between the Bunn GR Velocity vs the Bunn BX Velocity?
They both offer the same exact functionality and features, however the back of the BX is silver and rounded while the GR is more square-like and black.
It's fun to have different colors so that you can best match your kitchen. Which do you like best the silver or the black coffee maker?
---
The Bunn BT Coffee Maker is very similar to the BX and GR versions.
The main difference is that it has a stainless steel double-insulated coffee carafe that will keep coffee hot for up to two hours and it does not come with a warming plate.
The other 2 coffee makers come with a glass carafe and porcelain warming plate.
Otherwise, the features and the brewing methods are exactly the same.
---
Coffee Makers NOT Made in China
For those that would like buy a coffee maker made in the USA, but can't seem find one that has all the features you're looking for – there are many high quality coffee machines NOT made in China which can often have lax manufacturing standards.  There are excellent coffee makers made in variety of countries including England, France, Italy, Germany, Japan and more.
Researching Tip
Be very careful when conducting research as to where a product is made. For example, many of the coffee makers on Amazon claim to be "Made in Germany" because the glass they use is German glass, but the actual product is still manufactured in China.
Note: A product can be designed in country A, made up of materials from countries B, C, D – but ultimately still manufactured in China. 
---
Made in Italy